News
Check out this week's edition of the Green JHS Weekly Bulletin: Hornet Hive Updates by clicking this link. Past Editions September 8, 2020 September 21, 2020 September...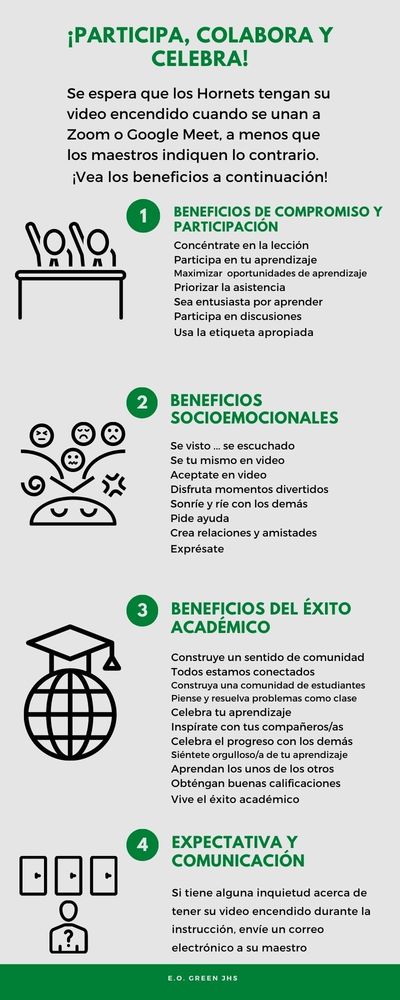 !Participa, Colabora, y Celebra!
All Hornets are expected to have their cameras on during synchronous learning when joining a Zoom or Google Meet unless teachers indicate otherwise. Check out the...
SEE ALL NEWS
LIVE FEED

Veronica Pacheco
2 days ago
Hornet Hive Update: Please click on the link to see detailed information about an important parent meeting hosted by GradNation on Wednesday, Feb 24 6pm (Spanish) and 6:45pm (English). Transitioning to High School can be a very difficult time for your child. Learn how the school system functions. Topics include exploring the transition process (Social and Emotional), graduation requirements for higher education (A-G), academies and pathways. Access the meeting link here: http://bit.ly/2ZsOxOF
-------------------------------------------------------------------------------------------
Actualización de Hornet Hive: Haga clic en el enlace para ver información detallada sobre una importante reunión para padres organizada por GradNation el miércoles 24 de febrero a las 6pm (español) y 6:45 pm (inglés). La transición a la preparatoria de la secundaria puede ser un momento muy difícil para su hijo/a. Aprenda cómo funciona el sistema escolar. Los temas incluyen la exploración del proceso de transición (social y emocional), los requisitos de graduación para la educación superior (A-G), academias y caminos hacia un futuro mejor. Acceda al enlace de la reunión aquí: http://bit.ly/2ZsOxOF



Veronica Pacheco
2 days ago
Hornet Hive Update: ATTENTION 8TH GRADE STUDENTS...PLEASE JOIN TODAY'S IMPORTANT CTE ROAD SHOW AT 11:35AM. THE LINK IS IN YOUR PERIOD 5/6 GOOGLE CLASSROOM.
------------------------------------
Actualización de Hornet Hive: ATENCIÓN ESTUDIANTES DE 8° GRADO ... POR FAVOR ÚNETE AL IMPORTANTE CTE ROAD SHOW DE HOY A LAS 11:35 AM. EL ENLACE ESTÁ EN TU PERÍODO 5/6 GOOGLE CLASSROOM.

Veronica Pacheco
2 days ago
Hornet Hive Update: Please click on the link to see detailed information about an important parent meeting hosted by GradNation on Wednesday, Feb 24 6pm (Spanish) and 6:45pm (English). Transitioning to High School can be a very difficult time for your child. Learn how the school system functions. Topics include exploring the transition process (Social and Emotional), graduation requirements for higher education (A-G), academies and pathways. Access the meeting link here: http://bit.ly/2ZsOxOF
-------------------------------------------------------------------------------------------
Actualización de Hornet Hive: Haga clic en el enlace para ver información detallada sobre una importante reunión para padres organizada por GradNation el miércoles 24 de febrero a las 6pm (español) y 6:45 pm (inglés). La transición a la preparatoria de la secundaria puede ser un momento muy difícil para su hijo/a. Aprenda cómo funciona el sistema escolar. Los temas incluyen la exploración del proceso de transición (social y emocional), los requisitos de graduación para la educación superior (A-G), academias y caminos hacia un futuro mejor. Acceda al enlace de la reunión aquí: http://bit.ly/2ZsOxOF
view image
SEE ALL POSTS